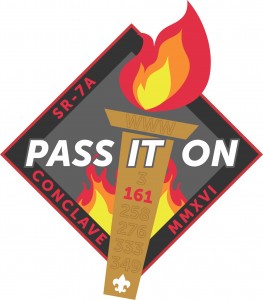 Theme – Pass it On
Dates: April 29 through May 1, 2016
Attendance: 1,006
Location: Camp Powhatan, Blue Ridge Scout Reservation, Hiwassee, VA
Service Lodge: Tutelo Lodge #161
Weather: Partly cloudy and warm on Friday. Cloudy and mild on Saturday. Heavy rain began after 10:00 p.m. Saturday, but had slowed to scattered showers by Sunday morning.
Presiding Officers: Section Chief: Andrew Sorenson (Blue Heron #349); Section Vice Chief: Alex Maneval (Shenandoah #258); Section Secretary: Carter Elliott, IV (Tutelo #161)
Officers Elected: Section Chief: Anthony Peluso (Blue Heron #349); Section Vice Chief: Carter Elliott, IV (Tutelo #161); Section Secretary: Brendan Switts (Blue Heron #349)
Awards: Tutelo Lodge #161 won the Lodge of the Year Award and the Quest for the Golden Arrow. Shenandoah Lodge #258 won the Spirit Award. Scott Smith of Tutelo Lodge #161 received the 2016 SR-7A Legacy Fellowship. Nawakwa Lodge #3, Tutelo Lodge #161, and Shenshawpotoo Lodge #276 were presented the Southern Region "We Support Camping: Award by Region Chief Jeff Sedlacek.
Special Guests: Special guests at Conclave included National Chief Hunter Jones and Southern Region Chief Jeff Sedlacek. Also present were SR 2-3 South Section Chief Lane Randall, SR-7B Section Chief Talon Parker, SR-7B Section Adviser Rob Kennerly, national ceremonial experts Paul Lackie and Dr. Jay Dunbar, several OA High Adventure leaders, a number of youth officers from nearby sections, and a host of others.
Notes: For the fourth year, brothers of SR-7A performed cheerful service to the community. This year, 2,747 stuffed animals were donated to Gleaning for the World and will be sent to children in hospitals and orphanages. Also, on Saturday of Conclave, a total of 750 backpacks were filled with school supplies and will be distributed to needy children. The generous spirit of SR-7A Arrowmen continued into Saturday night, when over $1,500 was raised at the Conclave Patch Auction to help fund this and future service projects.
Photos: For photos of Conclave 2016, visit the album on the SR-7A Facebook Page.
Conclave Newsletters
2016 Conclave Registration by Lodge
| Lodge | Registration Goal | Actual Registration | Percent of Goal |
| --- | --- | --- | --- |
| Nawakwa #3 | 200 | 172 | 86% |
| Tutelo #161 | 325 | 254 | 78% |
| Shenandoah #258 | 135 | 117 | 87% |
| Shenshawpotoo #276 | 110 | 100 | 91% |
| Wahunsenakah #333 | 165 | 176 | 107% |
| Blue Heron #349 | 165 | 163 | 99% |
| Guests | | 24 | |
| Section Total | 1,100 | 1,006 | 91% |
2016 SR-7A Conclave Vice Chiefs, Chairmen, and Advisers
Program Area
CVC/Chairman
Adviser
Service Lodge
Warren Crandall - 161
David Rutherford - 161
Quest
Anthony Peluso - 349
Preston Marquis - 349
American Indian Activities
Ryan McNeilly - 3
Matt Orlando - 276
Ceremonies
Sheridan Parkinson - 258
David Pratt - 258
Shows
Ryan Waldrop - 349
John Scheib - 349
A. J. Kelly - 349
Special Events
Matt Good - 258
R.C. Hartman - 258
Training
Kevin Lee - 349
John Donat - 349
Chapter Leadership Summit
Alex Maneval - 258

Taylor Bobrow - 349
Conclave Expo
Jack Marcum - 258
Randy Seeyle - 258
Conclave Service Project
Rhys Franklin - 333
OA High Adventure
Justin Petrie - 276
Tim Reidl
OA Museum
Gabe Plichta - 161
Joshua Batten - 276
Kyle Brendel - 470
2016 Conclave Overall Award Results
Lodge of the Year Award*
Quest for the Golden Arrow
Spirit Award
Tutelo #161
Tutelo #161
Shenandoah #258
2016 Conclave Quest Activities Results
| Activity | First Place | Second Place | Third Place |
| --- | --- | --- | --- |
| Lodge Ball | Shenandoah #258 | Tutelo #161 | Nawakwa #3 |
| Tug of War | Tutelo #161 | Wahunsenakah #333 | Shenandoah #258 |
| Volleyball | Nawakwa #3 | Wahunsenakah #333 | Blue Heron #349 |
| Ultimate Frisbee | Tutelo #161 | Shenandoah #258 | Wahunsenakah #333 |
| Relay Race | Tutelo #161 | Blue Heron #349 | Nawakwa #3 |
2016 Conclave American Indian Activities Results
| Style | First Place | Second Place | Third Place |
| --- | --- | --- | --- |
| Dance Competition Grand Champion | Ryan McNeilly - 3 | | |
| Craft Competition Best in Show | Doris Denson - 3 | Jim Richards | n/a |
| Old Time Sioux | Kevin McNeilly - 3 | Miles Jeffrey - 3 | Daniel Sabia - 276 |
| Straight | Matthew Young - 3 | | |
| Northern Traditional | Justin Chesnut - 3 | | |
| Prairie Chicken | Ryan McNeilly - 3 | Caleb Donovan - 3 | Devin Donovan - 3 |
| Grass | Brandon Daul - 3 | Mackenzie Burke - 3 | |
| Fancy | Jonathan Barlow - 3 | | |
2016 Conclave Ceremonies Evaluation Results
Ceremony
Honor
Pre-Ordeal
Nawakwa #3 Team 1
Nawakwa #3 Team 2
Tutelo #161 Team 1
Tutelo #161 Team 2
Tutelo #161 Team 3
Shenandoah #258
Brotherhood
Tutelo #161
Shenandoah #258
Vigil
Carter Elliott - 161
Brendan Kane - 349
Alex Maneval - 258
Daniel Marshall - 258